Association is registered, members and staff needed
On January the 10th, the founders met at Katajanokka, Helsinki, Finland. The first meeting took place after two months of preliminary discussions and planning. It was a small meeting, but it had the approval of Finnlines Oyj themselves. They own the name "Finnjet". It is not only the name of the ship, but is also a trademark and hence carries a certain value.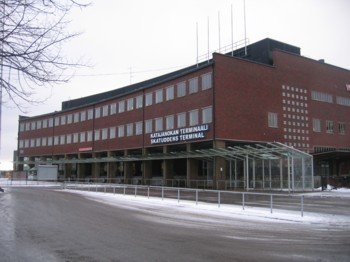 With our ship being carried off the beach piece by piece in India, a great number of people have expressed disbelief. This was not an old and damaged ship. Could we have saved her as a hotel somewhere on the planet or get her back into operation? If you ask me: definitely yes. At least three groups had come up with the necessary funding for diverse plans and they were all foiled by wrongdoings and greed.
What remains is the historical mission. When we do our work properly, then future generations can use our ship as a learning example of our hopes, dreams, failures and successes. We intend to tell the story of GTS FINNJET without sparing a word. For this we need the help of everyone, and I do mean everyone. We will go from the first idea of a new ship right down to the sad end. For this purpose we wish to hear from every designer, builder, systems manufacturer, crewman, officer, maintainer, sales agent, passenger, yard, repair yard and operator. As stipulated by our non-exclusive license, we do not make business nor profit with this mission. This is for Finnjet.
We need copies of your thoughts, memories, images, items and films. Everything will be marked appropriately with copyrights. If we receive items for scanning, we'll return them to you if you wish for that. What is our end product? An archive, items for museums and free information online available to everyone.
Every new member has asked one certain question. Is a certain someone a member of our society. The answer is an absolute no.
Designers and crew members of good reputation are welcome to join in as full members and former passengers and fans are invited in as supporting members. That status can be upgraded by providing good work for the society. It is not meant with offence. We just don't know you yet. What the society needs urgently is more staff members. We especially need historians, maritime historians and story writers with a technical mind. What we can offer for the historian and writer is an interesting collection of members to work with. Your questions can be answered whether they are directed at a seaman, chief engineer, captain, head designer, project manager or operator. All from our ship's past.
The society is Finnish-German and we often use English to avoid the need to translate everything. You can approach us with any of these three languages.
And back to the news article... On the 17th of April in 2009, "The National Board of Patents and Registration of Finland" have listed us as an officially registered association. Our registration number is 200.775.
Thank you.